2022 Victory Golf Pass
Special Pricing for our Friends at:

Special for the First Tee ~ 17% Off 2022 Victory Golf Pass Cover Price!
Fundraising Price of $49.95 per 2022 Victory Golf Pass.
Happy Golfing!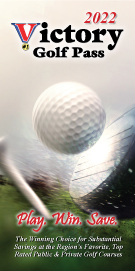 To Purchase Click the "Buy Now" Button Above. In the Shopping Cart, please select your desired Quantity, and then select your Shipping Method during the Checkout Process after you enter your Billing Information.
Click Here for Step by Step Online Ordering Instructions
Payment & Shipping Information

Purchasing Online is easy and secure using PayPal.
Note: You do not need to have or make a PayPal Account in order to check out.
Victory Golf Pass offers the Following Shipping Methods through the US Postal Service:
Standard First Class Shipping (2-7 business days)
Priority Mail Shipping (2-3 business days)
Express Mail Shipping (1-2 business days)
Please allow 1-2 business days to process your order. If your order is placed by Electronic Check, please allow 4 business days for your check to clear from the bank. Once cleared, your ordered will be processed as usual.