Attention Groups of 6 or More Players!
Get Extra Savings at Victory Group Pass Participating Courses
New! The Victory "Group Pass" is a new and exclusive incentive program for
golf groups of 6 or more to play & save with their friends at participating courses.
Based on the number of players in your group, Victory Golf Pass members will receive
additional per player discounts as a perk. It's that easy! The more players you have, the more each player will save off the Victory "Weekday" or "Weekend" Deals.

Look For the "G" Logo
Look for the "G" Logo in the 2022 Victory Golf Pass Book to easily locate and play
Group Pass Participating Courses.
How to Use The Pricing Chart
Example: Group of 6 Golfers using a $35 Weekday Deal:
First, go to the "Victory Deal Price" column to the "$21-$40" Row. Slide over to the
"6-8 players" column. The intersecting amount in the box is $2. This is the per player group incentive amount that will be subtracted from the $35 rate.
Each player now pays $33 at the counter. It's Savings on Top of Savings!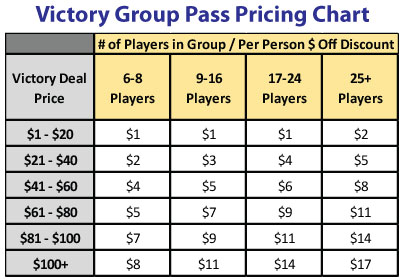 2 Basic Rules Apply for Any Size Group:
Every player in the Group must have a 2022 Victory Golf Pass book in hand at the Pro Shop to receive special group discount. No exceptions.
Victory Group Pass Savngs ONLY applicable at Participating Group Pass Courses for "WEEKDAY" and "WEEKEND" Deals.
Not valid for Super Saver, Senior, Junior, Hero, Ladies, Foursome, or Twosome Specials. Call Victory Group Pass Participating Course to reserve "Victory Group" Tee Times with a minimum of 6 Players.
The Following are Victory "Group Pass" Participating Courses.
Courses Listed Alphabetically by State. Private Courses are Underlined.
*To view Group Pass Participating Course Deals, Click County Links below.*